Software Cost Calculator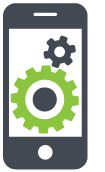 What does it cost to build a custom software application?
Estimating the cost for software development can be difficult because no two projects are alike. That is why we take the time to create estimates by hand, using a detailed process that combines the information you provide with our 20 plus years of software development experience.
If you are curious about what it costs to create your custom web or mobile application, tell us a bit about your software needs in the steps below, and we will email you a personalized estimate to the email address you provide as soon as possible.
If you would like to speak to us, fill out our Contact Us form, or give us a call at 404 601 6000.